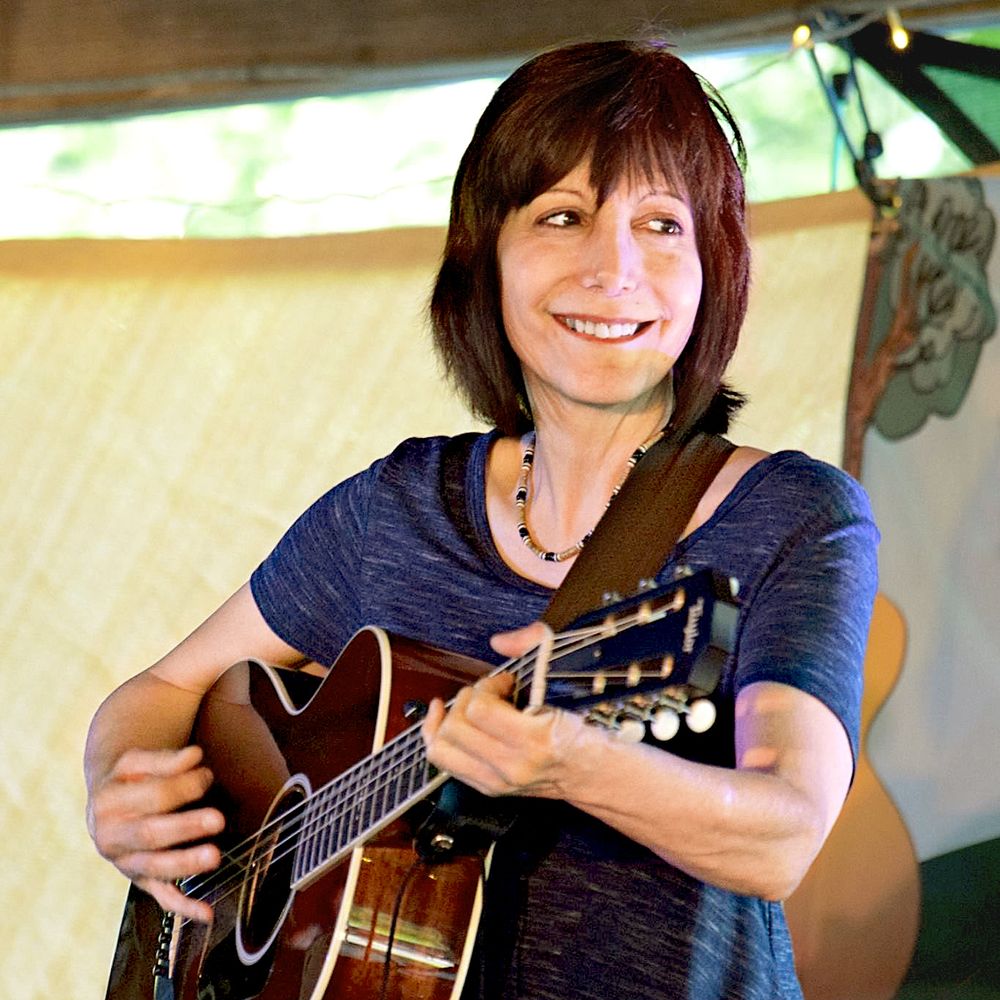 Reviewers describe award-winning singer-songwriter, Loretta Hagen, as 'heart driven, soul-filling, Folk Americana.' April 1, 2021, Loretta released her new single "Not Now", in advance of her upcoming album.
With 4 critically acclaimed CDS to her credit, Lucky Stars (2017), Mud and Stone (2012), Sundown Till Dawn (2008), and Something More (2002), Loretta's rich alto voice and strong songwriting skills have led her to win many awards, including a JAM Awards' (Jersey Acoustic Music Awards) "Top Female Songwriter of the Year," JAM nomination for "Album of the Year," 4-time nominee Just Plain Folks Music Awards, 2018 PureM Magazine winner for Best Song and nominee for Best Album, winner of the NJ Folk Festival Songwriter Competition and 2-time designation as a CT Folk Festival finalist.
Loretta Hagen
Groove In The Grove Festival
Photo Credit - Brian McCloskey
2020 is a year many will never forget. Loretta Hagen's new single "Not Now" released April 1, 2021 reflects that. 
"Not Now" is a song about hope and the will to survive. Award- winning singer-songwriter Loretta Hagen wrote the song during COVID-19 after hearing the heartbreaking stories of people fighting for their lives, alone in hospitals. 
"Each day I would hear news stations report the heartbreaking stories of people alone in hospitals around the world fighting for their lives without a loved one at their side. I can only imagine the terror for them. So many stories of loss: loss of life, loss of jobs, homes, loneliness. Normal life simply gone. But in all of that overwhelming despair and loss, there were also stories of survival." 
Loretta Hagen's fourth CD "Lucky Stars," took the listener on a personal journey through loss, healing, and ultimately the promise of hope. 
Four years in the making, "Lucky Stars" brought Loretta's journey full circle, when faced with the heartache of illness, death, and going on without loved ones so cherished. She found solace in the promise of new beginnings, love, and the inherent knowledge that our Lucky Stars are watching over us. 
Loretta's third CD, "Mud and Stone," well received by DJs worldwide, debuted at #10 on Folk DJ Charts, consistently #1 on the Roots Music Report for NJ, #5 Top 50 Folk Albums RMR, and topped many best of lists. Five years later the album is still going strong, recently receiving 4 nominations for the Just Plain Folk Awards with awards being announced late fall 2017. 
"This effort [Mud and Stone] is first class, top tier, a true contender as an artist to reckon with." John Apice ~ No Depression 
Following her critically acclaimed CD Something More, co-produced by Pat McInerney (Nanci Griffith), Hagen released Sundown Till Dawn, a CD that garnered rave reviews and radio play across the country. 
Sundown Till Dawn is extremely personal, with the title track written about her mother who suffered with Alzheimer's disease. Loretta's Mom passed away peacefully at her home. The emotionally charged ballad is included on the soundtrack of a film called "10 Mountains 10 Years" chronicling the journey of a group of mountain climbers who are raising awareness about the disease. 
Loretta has performed at premiere venues across the Northeast and Nashville, sharing the stage with Pete Seeger, Roger McGuinn, Sloan Wainwright, Steve Forbert, Richie Havens, Kim Richey and Marshall Crenshaw among many others. 
Loretta performs primarily as a duo, but also plays as trio and full band with husband/guitarist Gary Hagen and djembe player Linda Lambiase, Teri Avella bass and Debby Maggiulli on drums. When Loretta is not playing music, she enjoys spending time with her husband Gary, and her sweet little dog Luca. Loretta has worn many hats, including Vet Assistant, School Bus Driver, Pet Sitter, Animal Shelter. Her love of animals is very prevalent on her social media pages.
PRESS 
"There is something subtly epic about this song. It's the kind of epic-nature that can make a listener very pensive.  Loretta Hagen has created a song that will tap into something deep within you.. The poetic imagery here is so poignant and it's very relatable. Her lyrics also have an inspiring resilience to them, .. "Not Now" is a low-key folk song that features impressive songwriting and a unique voice from Loretta Hagen." Daniel Deprè - Please Pass The Indie

"Over a beautifully recorded acoustic arrangement of guitar, bass and drums Loretta uses the metaphor of a shipwreck castaway to represent the lonely survivor. "Not Now" is a message to death itself. Our heroine is going to survive to see her family. She has chosen strength of will over desperation. The track is beautifully performed by Hagen and her band, including some smooth leads from her guitarist (and husband) Gary Hagen." Bob Smith ~ The Static Dive

 "Critically-acclaimed/award-winning NJ singer-songwriter Loretta Hagen (who performed with the late Pete Seeger) comes with a well-produced & recorded "Not Now." With a rich alto voice/acoustic guitar Loretta, instead of bellyaching about Covid-19 addresses surviving. Wonderful allusions, tight benevolent lyrics & a heartwarming melody with no anger, no regrets or bitterness, just optimism. She thinks about the people not just as victims. No politics, no accusatory finger-pointing. There are no soaring showboating vocals here – Hagen delivers on the strength of her soulful musical gifts. Guitarist Gary Hagen lays down some exceptional work, bassist Teri Avella joins with backup vocalists: Debby Maggiulli & Jackie Sierchio. 5 Stars. Do you hear me Cat Country? 5-stars." 
John Apice ~ Grooves & Cuts ~ Americana Highways

"The powerful lyrics, "I am shipwrecked, on an ocean wide/I barely catch my breath, when the winds subside", open up Hagen's newest song, "Not Now". The raw emotion displayed through the effortless acoustics reveal the pain and sorrow from unforeseen circumstances. Setting up for her late 2021 album release, the comforting country folk tune calls on God to dry her tears and help weather the storm. Shifting the darkness to light, Hagen's songwriting and perspective brings hope for any journey the listener may be on." LINSEY ROTTER - Music Mecca
"Loretta Hagen writes songs that sound like they can come from the Heartland, but they also really come from the heart." - John Platt, WFUV 90.7 FM 
"I've always enjoyed [Loretta Hagen's] music since I first heard [her] a few years back. [Loretta's] songs sound incredible. I love that!" - Ron Olesko, WFDU-FM 89.1, Traditions Radio Show 
"Loretta's honeyed voice and uplifting melodies help us find a way through." 
Joltin Joe Pszonek - Radio Nowhere 
"Loretta has a magnificent voice and is a terrific performer!" - Jim Monaghan, WDHA-FM, All Mixed Up Radio Show 
"[Loretta's been] blessed with ... an uncanny gift of being able to write songs about everyday life which tug on the heart strings" - Sol Zeller, Borderline Folk Music Club 
"Loretta's manner and voice are imbued with such quiet, unassuming  grace that you don't realize at first that she has completely stolen your heart!" - Laura Ford, Heights House Concerts 
"Loretta Hagen's songs just get better and better the more you hear them. Her music is intricate, unassuming… not what you've heard before. Her lyric is honest, heartfelt and quite funny at times. The musicianship between Loretta and her husband Gary is second to none. Quite good! I'm sitting here listening to her interview and performance on John Platt's show on WFUV in NYC and wondering about the fairness in music. Loretta and her music should be BIG STARS! Alas, she's as humble as she is good, and she's very, very humble! I'll have her at CoyoteRidge every chance I get!" Bernie Stapleton, CoyoteRidge Music Series
Loretta Hagen w Gary Hagen, Teri Avella, Linda Lambiase
Photos (right click and save image)